GOP Estab Debate Panelist Hugh Hewitt 'Very Confident' Rubio, Walker, Kasich Will Surge in Polls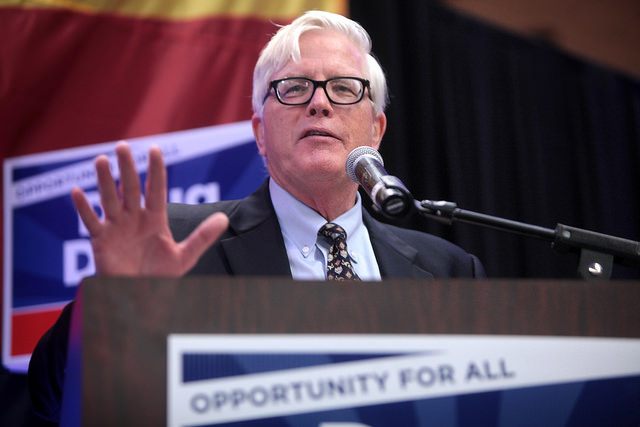 Hugh Hewitt, the Republican National Committee's (RNC) handpicked panelist for the CNN debate, is "very confident" that the three candidates beloved by the GOP establishment–
, Wisconsin Governor Scott Walker, and Ohio Governor John Kasich–will rebound and surge in the polls in January. "I think [Rubio] will rebound as I think Scott Walker will rebound," he said in a Monday appearance on MSNBC's
Morning Joe
when asked about Rubio's dismal poll numbers, noting that the "ground game" will matter "so much" in Iowa and New Hampshire. "I'm very confident about this."
Hewitt added that "in January, Walker, Rubio and Kasich are three people who are down in the polls right now and not yet show up on a lot of national registers–they'll be in the thick of the hunt come January."
Though Hewitt has repeatedly been saying that the debate is "all about the candidates and not about the panelists" and "hopefully Thursday's headlines have nothing to do with panelists and moderators and everything to do with the exchanges between the candidates," a
Politico
magazine
article
predicted that Hewitt "may end up emerging as one of the central characters in the ongoing reality TV show that is this year's GOP presidential primary." It is worth noting, like with referees in sports, the moderators and panelists
were probably doing it wrong if they make the headlines.
After trying to stump Trump by peppering him with trivial pursuit questions about the leaders of various terrorists groups and treating him with more disdain than other establishment-approved candidates, Hewitt, like Megyn Kelly did after the Fox News debate, received the adulation that he has always sought from the mainstream press. Hewitt has since conceded that he should have phrased his questions better to Trump and Trump legitimately misunderstood him regarding the Kurds and the Quds force.
Steve Schmidt, the Republican consultant who threw Sarah Palin under the bus in order to cover up his tactical errors managing the McCain campaign and has since endeared himself to the mainstream press by bashing conservatives, praised Hewitt to
Politico
for not engaging "in the type of nonsense talk that emanates out of so much of the talk radio community." Though Hewitt is not as influential as talk radio host Mark Levin among conservatives and, as
Politico
noted, Hewitt's weekly audience is "about one-tenth the size of Rush Limbaugh's," Hewitt admitted to
Politico
that he "lobbied" GOP Chairman Reince Priebus "incessantly" to be the right-of-center panelist as "a counterbalance to mainstream media's left tilt." As
National Journal
noted in a piece that labelled Hewitt as the "go-to" pundit for the GOP establishment, Hewitt's son also happens to be a deputy press secretary at the RNC.
Hewitt may not be without biases, especially when it comes to policy positions–like immigration and amnesty for illegal immigrants–that conservative voters care about.
As Breitbart News's Julia Hahn
thoroughly documented
, Hewitt, who urged illegal immigrants who were flooding across the border from Central America to be spread across the United States,
has praised
Rubio in public and private as the candidate he thinks, despite poll numbers to the contrary, can best take on Hillary Clinton. He has also said the GOP should follow Rubio's lead on amnesty legislation.
"Listen to him. Do what he says," Hewitt reportedly said of Rubio and his support for the Gang of Eight's comprehensive amnesty bill in 2013. "It isn't that complicated."
Hewitt has also been one of Mitt Romney's biggest cheerleaders. And Robert O'Brien, one the partners at the law firm where Hewitt works part-time and with whom Hewitt
co-authored
an article about how Romney could win the presidency in 2016, is advising Walker, according to
Politico.
Hewitt did acknowledge this week, though, that Carson and Trump are succeeding because they are "talking over the heads" of the elites like him who watch shows like
Morning Joe
. He said that those who support Trump and Carson have "very little sympathy and affection" for people who have been running things in D.C. for decades–whether they are Democrat or Republican.