The Beginning of the Trump/Carson Coalition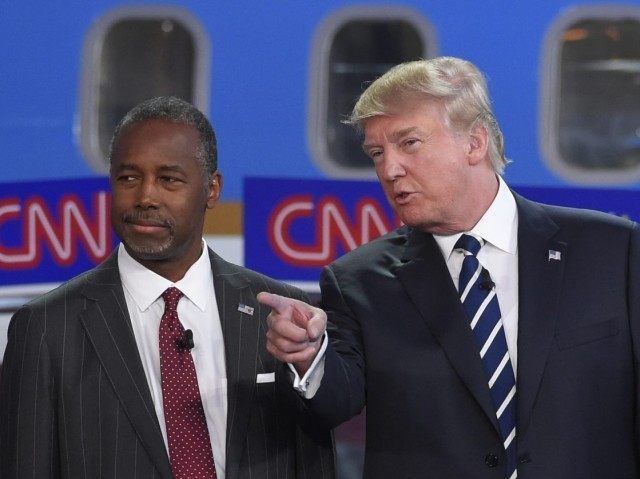 Trump and Carson's awkward high five
Washington Examiner
From Gabriel Sherman writing at New York magazine:
Donald Trump has so far dominated his Republican rivals by sticking to the slimmest of playbooks: provoke attacks, and then pounce. On Friday, Rick Perry, who was the first GOP candidate to go after Trump in July, also became the first candidate to drop out of the race. "Everybody who attacks me is doomed," Trump
boasted
to
The
Wall Street Journal
over the weekend.
Except they're not.
Ben Carson is the only candidate in the Republican field who is proving to be immune to Trump's insult-comic shtick. In recent days, Carson has surged in the polls despite his recent tangles with Trump — and perhaps because of them. Since August, Carson doubled his national poll average to 20 percent. In the latest Iowa polls, Trump and Carson are in a statistical tie. In New Hampshire and South Carolina, Carson has zoomed into second place.
You would think that Carson's rapid advance would have prompted a scorched-earth response from Trump in last night's debate at the Reagan Library. But instead Trump made a conspicuous showing of playing nice with Carson, even as he blitzed others on the stage. When Carson challenged Trump's claim that he was the only Republican on the dais who opposed the Iraq War, Trump reached over and shook his hand. Later, Carson questioned Trump's claim that doctors found links between autism and vaccines. Trump responded by clarifying his position and amiably patting Carson on the back. "And that's all I'm saying," Trump sa